Yash international has a pioneer status in broad range of quality measuring instruments for gauging pressure & temperature parameters across diverse applications.
Leading Exporter and Supplier of industrial pressure gauges, bourdon type pressure gauges, Capsule type pressure gauges, sealed diaphragm pressure gauges, digital pressure gauges, differential type pressure gauges, glycerine filled pressure gauges, weatherproof gauges, Master/Test gauges, electric contact pressure gauges, mercury filled temperature gauges, bi-metal temperature gauges, refrigeration temperature gauges etc..
Our manufacturing prowess covers a vide range of measuring instruments. Our products make their presence felt in over more than 18 Overseas-countries. And yet what keeps us surging ahead is the love of new challenges, each of which gives us a chance to showcase our entrepreneurial sprit and sense of enterprise.
With an organized setup and huge stocks of inventory, we can promise the best quality and on-time deliveries.
Quality- Complete Customer Satisfaction (CCS)

At Yash International, we believe in 3-sigma quality process

• Maintaining World-class quality products & ensuring deliveries on-time
• Providing most cost-effective pricing to our clients
• Always ensuring complete customer satisfaction (CCS)


You will see technology at its best, be it in the components, the advanced production line or the well trained work force. Each gauge undergoes a strict quality control test at every stage, so that you get a product conforming to IS 3624 standard. To maintain the best quality of the products we have adopted system of mandatory inspection and tests as well as periodic quality audits and system evaluations.
Value Added Services

International standard packaging is also done
as per client requirement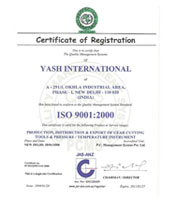 ISO Certified Company
We are a JAS-ANZ ISO 9001:2000 Certified company driven by Professional excellence, Technical competence and Total Quality Management system.

Presently the company is having a strong presence in more than 20 countries & also home country India backed by deep sense of commitment and managerial skills of our every employee to deliver the most qualitative & competitive.